SOLD OUT
Friday, March 31 @7pm
Tyler Metro Church
Adult Worship Center
Doors open @ 6:15pm for General Admission
Sunday, April 23 @ 7pm
Tyler Metro Church
Adult Worship Center
Tickets:
Doors open @ 6pm for General Admission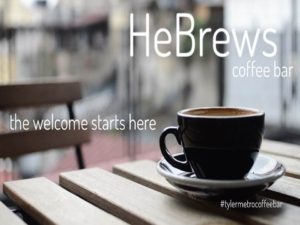 Sunday Mornings @ 10am
Adult Worship Center Foyer
Specialty Coffee each week
UPCOMING EVENTS
T
o subscribe to our weekly email and/or to receive information about upcoming events @ Tyler Metro Church, please click the link below:
WORSHIP



SUNDAY MORNING 10:30 A.M.
Adult Worship Center
WEDNESDAY NIGHT 7:00 P.M.
Adult Bible Study (Adult Worship Center)
R.E.A.C.T ~ Youth (Family Life Youth Center)
XTREME KIDS FOR JESUS ~ Children's Ministry (Children's Worship Center)
Website currently under construction… not all links available.
CONNECT
Connect with us on our social platforms. Stay in tuned with our latest Facebook posts, Twitter feed and watch our Sunday Service on USTREAM.
Tyler Metro Church: 14196 Hwy. 110 South ~ Whitehouse, Texas 75791
Mailing Address: P.O. Box 131510, Tyler, Texas 75713